Sequel Sound approached us a little while ago, in an effort to make a pretty big announcement. They have just signed a new artist to their label. Claus Muzak, and with him came the LP 'V​-​Series' (SQL012). An ambient techno, acid-electronica, experimental club, IDM fusion of sounds. Claus Muzak is based in Portland. Sequel Sound label have stations in Akron, Ohio & Oakland, California. Check out the Sequel Sound Bandcamp, Soundcloud, and be sure to like their Facebook Page. Thanks to all the supporters/listeners
† NVRMNDUS †
"Composed as a willful response to a sudden rash of panic attacks, the V-Series EP was written during many short sessions, some lasting mere minutes. Most of the initial work was done in the briefest bursts, small moments stolen from palpitations and breathlessness.
Muzak's signature hopeful, redemptive melodies are noticeably absent in this work. Instead, the tracks tend to dwell on a single note, perhaps a chord, with very little movement, and often without resolution. The pounding kicks issue a violence inspired by the frustration of bodily malfunction; the wavering notes are the plaintive gasps of drowning in air.
During production the national news brought yet more revelations about the US military's testing of chemical weapons on its own troops. For years the US manufactured literally tons of chemicals for warfare. In the end, these were destroyed or simply buried at sea. A particularly potent nerve agent was VX gas, part of what was called the V-Series. If deployed in battle, the gas would paralyze its victims' diaphragms; those exposed would be drowning in air."
An Introduction On Sequel Sound
SQL had no backing prior to it's inception. All the artwork, all the pages, all the music .. straight from one creator's brain out into the open air. We started the label, as we feel, at a time when meaningful electronic music and meaningful art are separated, and dance music becomes a formula, rather than a form of artistic and emotional expression. With each release, the music has meaning to the artist and to the label, and the artwork we create expresses that. Meaning is vital. Whether it's relatable or not, most of our release have an air of sentimentality that surrounds them.
Jeff does the A&R and painted records, Marko does our e-mail campaigns, Josh does the mastering and artwork.
It's an interesting time to be involved in a label right now. We're trying to weed our way through this online labyrinth.. racking our brains to bring things to life .. bring them into the physical world. We're saving to start press 12″'s, but until then we're formulating a string of parties in Cleveland and in the Bay Area to showcase the artists we release on both sides of the country.
Any questions you have, me and Jeff are eager to answer them!
Release from the past 3 Months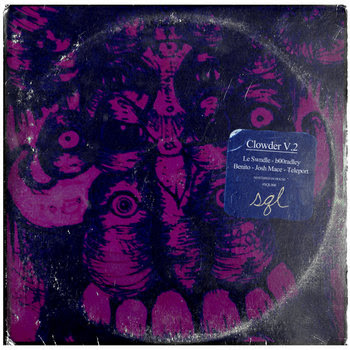 ​